Products for
natural
light in rooms
Benefit from the natural power of the sun thanks to the innovative filter technology from Sunexx.
Benefit from natural and above all healthy light thanks to the special filter technology from Sunexx. Whether glazing, filter panes, filter foil or the internationally proven application products – Sunexx optimise the quality of your light sources and enjoy the sun everywhere without worry.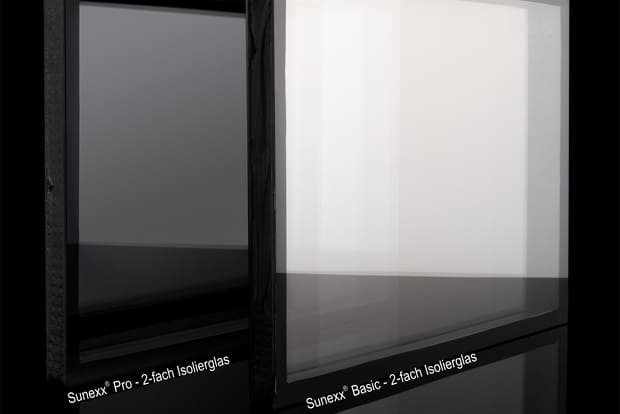 Sunexx® Baisc or Pro - functional glazing with healthy added values
The versatile special glass for healthy residential and commercial buildings, terraces, conservatories, greenhouses.
The special glass is optimized for the greatest possible triggering of natural vital photobiological effects by means of sunlight. It is characterized by its brilliance, very low iron content, high purity of raw materials as well as very high light transmissions in the visible range and transmittances in the UV range. Therefore, important photobiological processes can be triggered or prevented, which cannot be triggered behind regular glass. The usual combinations and glass refinements can be carried out.

Filter discs / panes
Filter systems for optimisation Irradiation equipment and lighting
Artificial light sources have a more or less continuous emission spectrum, none of which has a wavelength-specific spectrum around the UV range. Filter disks can be used to adjust the desired spectra and to ensure that no high-energy short-wave radiation hits people, animals or plants and causes damage, while specifically desired photobiological effects are triggered.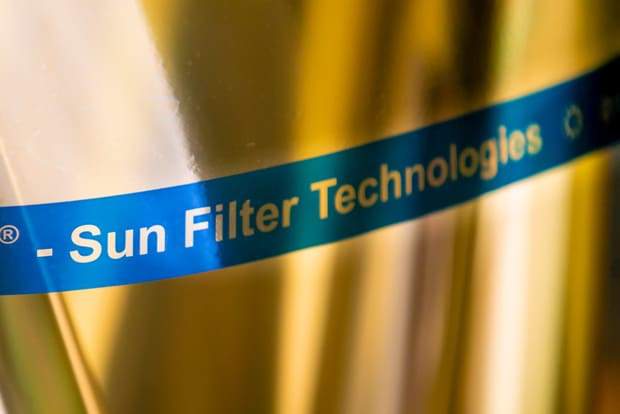 Flexible filter films
Fill up on the "best of the sun" in a safe and compatible way.
The proven filter films for selective nanometre-precise filtration and regulation of sunlight reliably protect against the harmful components of sunlight and, thanks to special metallization, ensure a significant reduction of heat rays behind the film. The protective effect has been scientifically confirmed several times and enables new uses for sunlight.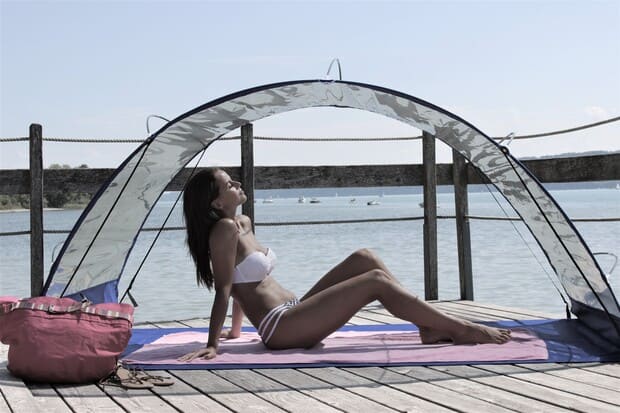 Application products
Can be used anywhere and reliably enjoy the sun without worry.
The filter films are available as application products, such as the sun protection and tanning tent, as a roller blind, as a tarp/sail or as a head covering.
Due to its good processing possibilities, numerous customers build specific application products for themselves from roll goods or prefabricated filter films.
For healthy natural light in rooms
Sunexx® is the trend-setting glass that lets vitality-giving, healing, beneficial and germ-killing sunlight into rooms and provides a new quality of living, working and growing climate.
Reduce or prevent the burden of viruses and bacteria in your rooms through the natural power of the sun.
Turn (upgrade) your existing conservatory into a health oasis and an optimal green growth oasis for your plants by simply replacing the windows.
The elixir of life and oldest remedy, the sun, triggers and regulates many vital, performance-enhancing and health-preserving processes in humans, animals and plants, especially in the UV range. Normal glazing blocks this important radiation, with fatal consequences especially for the indoor generation.
Benefit from the natural power of the sun
For the first time, experience the healthy and vitality-creating power of the natural sun as a full spectrum and in high quality in your rooms. Expand the well-known indoor qualities with the advantages of the elixir of life, the sun, and create a brilliant, special living climate for yourself and a growth oasis for your plants.
Glazing with Sunexx not only provides a unique supply of the photobiological power of the sun, but also ensures the highest transmission of visible light and optimum energy generation through the highest total transmission of the full spectrum of sunlight.
$

Increased daylight

$

Energy saving through targeted use of sunlight

$

Higher natural comfort and improved indoor climate

$

Glass made to measure

$

Glass construction as desired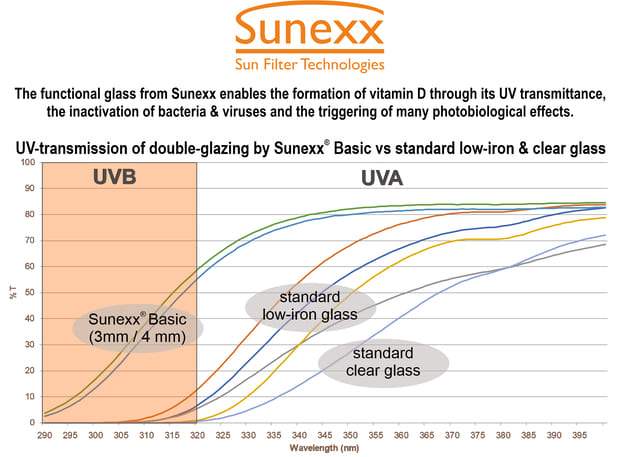 Advantages of Sunexx glazing:
$

Formation of vitamin D and NO synthase

$

Formation of hormones- like serotonin

$

Stimulation & regulation of metabolic processes

$

Deactivates and reduces bacteria and viruses

$

Photobiological effect, valuable secondary metabolites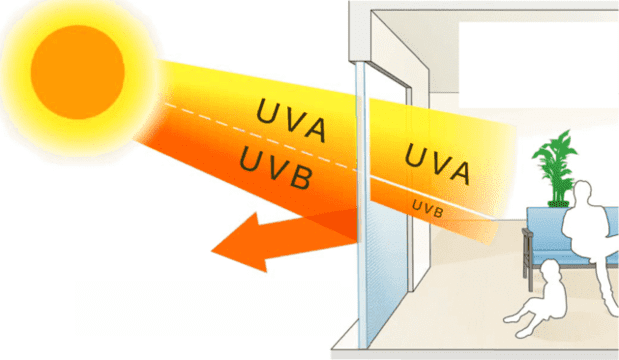 Special glass for the building industry
The core products of Sunexx are special glass for the building industry with significantly more functions than normal glass – customised and glass solutions at the highest-level Functional glass with significantly more properties such as perfect view and permeability.
The functional and brilliant glass is available as:
$

Flat glass (float glass)

$

Toughened safety glass (ESG)

$

Partially toughened glass (TVG)

$

Laminated glass (VG)

$

Laminated safety glass (VSG)
$

Multi-pane glass - insulating glass (2-fold / 3-fold / 4-fold)

$

Special structures (e.g. roof glazing, façade glazing)

$

Glass room dividers / glass partitions

$

Glazing for greenhouses and vital indoor plants
Whether manufacturer, architect, planner, craftsman or auditor: the DGNB Navigator is a convenient tool that supports all those involved in the product selection process. The German Sustainable Building Council with its unique online platform creates transparency and provides everyone with valuable information on the product they are looking for and its characteristic values quickly, precisely and free of charge – for example, information on environmental impacts, calculation of life cycle costs, energy requirements or emission behaviour.


Sunexx quality requirements
Special quality requirements for dermal lenses of the highest quality and purity.
Perfection for your health and maximum benefit. Although the usual standards and guidelines for building glazing are subject to quality testing at Sunexx, they in no way fulfil the quality requirements and product guarantees necessary for dermal glass.
For example, Sunexx glass differs from the usual construction glazing in its highly pure chemical composition with the highest requirements for raw materials and low iron content. Also, the size and number of inclusions, bubbles, spots, stains or residues allowed by Sunexx are significantly below the usual quality requirements for building glazing. Due to the purity and low iron content, the panes also heat up less and a higher energy recovery is guaranteed.
Also, in the case of light transmission due to its up to 20 x more accurate measurement of light transmission in nanometre precision in the range of 200 nm to 3300 nm instead of the visible range of 380 nm to 780 nm focused in the standards.
For healthy natural light in rooms
Radiation sources not only need to be covered and protected from external influences, light sources can also emit harmful radiation, especially in the UV range. In addition, the radiation doses of light sources change with the period of use.
Damage from undesirable radiation components can cause harm to humans as well as to plants. Therefore, harmful radiation must be selectively filtered out and the weighting of the rays must be adjusted.
Conservative UV radiation sources, as well as modern UV LEDs, are in most cases unable to radiate without harmful components, or to ensure that this occurs under certain – even unfortunate – combinations.
The filter discs – which are always matched to the radiation source – can independently filter out the harmful rays with high precision and improve the quality of the radiation source and the effects on humans, animals and plants.

For example, in irradiation equipment, quality improvements and therapy extensions in phototherapies) and in plants (e.g. vertical farming, horizontal farming, growth lamps, …) increase and prevent side effects or damage.
Highly efficient and environmentally friendly sun protection.
The filter films are material innovations for the selective filtration and regulation of solar radiation with a unique filtration precision in nanometre accuracy.
The filter foils contain a complex layer structure which has proven itself worldwide and not only provides highly effective protection against the harmful rays of light (skin cancer, sunburn, allergic reactions, accelerated skin ageing, wrinkling, collagen degradation, formation of free radicals, …) but also specifically prevents heat and thus excessive sweating or high-water consumption.
The filter foils have a built-in intelligent wear index and you can see how the filtered harmful radiation would have irreparably damaged them, but without the protective effect diminishing. The filter foils are versatile and can be processed reliably.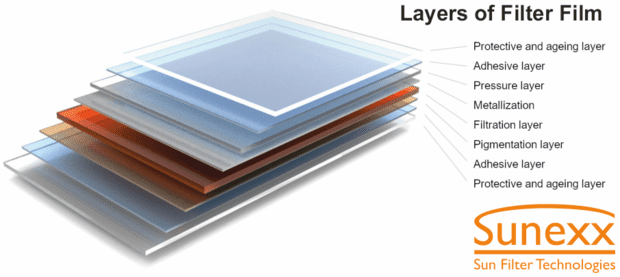 Due to their high quality and purity, the filter films also form the basis for medical products. The filter films are available in roll form in widths of 1.20 m or 1.50 m.
Our industry partners (excerpt):

















All over the world
Application products – for carefree sunbathing all over the world – have proven themselves internationally.